Our Veterinarians
The team of skilled veterinarians at Greywolf Veterinary Hospital welcomes you to our practice. Proudly serving the Sequim area. At Greywolf Veterinary Hospital, it is our daily privilege to provide quality vet care to your cherished pet, with compassion and competence. We hope to ensure a positive impact on our patients, pet owners and the local community.
Dr. Mike Tyler
DVM
Dr. Tyler was born and raised right here in Washington State. He studied wildlife biology at Washington State University (WSU), and received his DVM from WSU College of Veterinary Medicine in 1986. He has lived in this area since 1989, and he and spouse Suzanne founded Greywolf Veterinary Hospital in 1992. He loves the diversity and daily challenges of veterinary medicine. Dr. Tyler enjoys providing medical and surgical care for dogs, cats, birds, reptiles, llamas, alpacas, and many exotic species. For the past 30+ years he has also provided voluntary care for local wildlife including eagles, owls, songbirds, deer, mountain goats, and many others. Dr. Tyler and his wife, Suzanne, are blessed to live on a beautiful sustainable family farm. They raise dairy goats and Suzanne makes cheese and yogurt from the milk. They also raise cattle that graze the pasturelands, free-range chickens for eggs, heritage turkeys, and gaited horses.
Dr. Brittany Rose
DVM
Dr. Brittany Rose hails from Mobile, Alabama. She graduated from Auburn University with a Bachelor's in Zoology and went on to receive her DVM from the University of Illinois at Urbana-Champaign. Dr. Rose has always known she wanted to work with both animals and humans. The client-doctor bond is something she enjoys forming and nurturing throughout the patient's life. She enjoys the challenges and diversity of veterinary medicine. She has a special interest in exotics. Dr. Rose and her husband, Scott, relocated to Sequim from Pensacola, Florida. They were drawn here by the small town atmosphere, mountains, and abundant outdoor activities. They enjoy hiking, cooking, and bird-watching in their spare time. Dr. Rose is also an avid crafter away from work. She and Scott live in Sequim with their little boy, their two lab mixes, Lolly & Aspen, and two cats, Denny Crane & Savannah.
Dr. Rae Hamblin
DVM
Dr. Rae Hamblin grew up in the Seattle area and studied biological sciences at The Evergreen State College in Olympia. She received her DVM from the Washington State University College of Veterinary Medicine in 2017. Dr. Hamblin was drawn to veterinary medicine by the diversity of challenges in the field, and the opportunity to both work with animals and develop close relationships with their humans. She has a special interest in feline medicine. Dr. Hamblin is thrilled to live in a small community so close to salt water and the forest, in an area with such a wide variety of outdoor recreation. In her free time Dr. Hamblin enjoys hiking, backpacking, cooking and playing piano. She lives in Sequim with her Australian shepherd mix Luka and her three kitties Kazul, Brigan, and Saturday.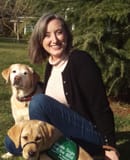 Dr. Emily Niedfeldt
DVM
Dr. Emily Niedfeldt was born in Chicago, but spent most of her adolescence outside of Providence, Rhode Island. She received her B.S. in Veterinary Sciences and her M.S. in Animal Sciences with a focus in food safety at the University of Arizona (Bear Down!), before moving to Kansas for veterinary school. She graduated with her DVM from Kansas State University in 2018.
Dr. Niedfeldt has a special interest in small ruminants and camelids, but is excited to meet and work with animals of all shapes and sizes. She is especially looking forward to becoming a part of strengthening the human-animal bond between animals and their humans as a clinician.
In her spare time, she enjoys knitting, hiking, volunteering with the local Guide Dogs for the Blind puppy raising club, and spending time with her family. She lives in Sequim with her partner, Brian, career-changed guide dog pup Keena, and two cats, Leon and Minerva.